"The sea, the sand, the sky… how it stirs us.
A breath of fresh air, a captivating sunset, a feeling of peace and well-being.
Basic joys that make us human.
Do you crave the cool of the ocean, dream of the warmth from the sand?
Beach Sandy is for those who love these thoughts.
Our products are designed to enhance the precious time you spend at the beach."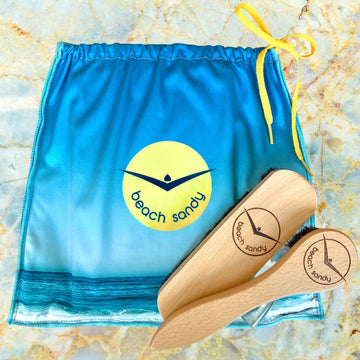 Beach Sandy
Beach Essentials
Ready for a perfect day of fun in the sun? Check out our beach products. Fill up your beach bag with something useful!
Shop Products
Take your spirit on a journey with Sea Sparkles
Download a free copy of our Beach Inspired Book to explore the sea energy
Download E-Book
Testimonials
This product is wonderful. The brushes thoroughly remove sand from chairs, feet, umbrellas, coolers and anything else you may bring to the beach. My son is in a wheelchair and they are great from removing the sand from the wheels. They also work well on dog paws! The bag that the brushes come in is also great for cleaning sunglasses or your cell phone. Love this product!

Joann Neill
This is a smaller version of the original brush kit I bought from this company. I teach yoga on the beach and It's perfect to keep with my yoga mat. I can wipe off the sand and roll up my mat so fast when I'm done. The material of the bag it came with works great to wipe off my sunglasses.. I love this…

SM, Amazon Customer
My favorite RV brush. What a great product to help me keep everything cleaned up. We took this product on our vacation and it was perfect to use in our RV to keep all the sand out. It also cleaned up our wetsuit really well. This kit is going with me on all my trips!

ND, Walmart Customer
This is an excellent cleaning kit for taking the family to the beach. Helps get the sand out of my truck easily (without a vacuum or a broom). I put one in each of my cars, I love this brand! Perfect giveaway item! I restore and re-sell vintage cars. Now that I own a Beach Sandy kit, I am planning to put one in all of my cars before delivery. My clients are going to love it.

Shaun Bryant
Amazing ball for kids. This ball was great for the pool party we went to. Kids and parents chasing the bouncing ball around all over the place. Small toy, big fun. Colors are great!

Debbra Caruso
I LOVE my new bracelet! I love the beach and this will make sure I have the essence of the beach with me all winter long! It is so nice to mix with other bangles! This is such a great bracelet especially with the palm tree bag. I was able to easily make the bracelet fit my wrist and I love putting it away in it's little pouch.

Amazon Customer